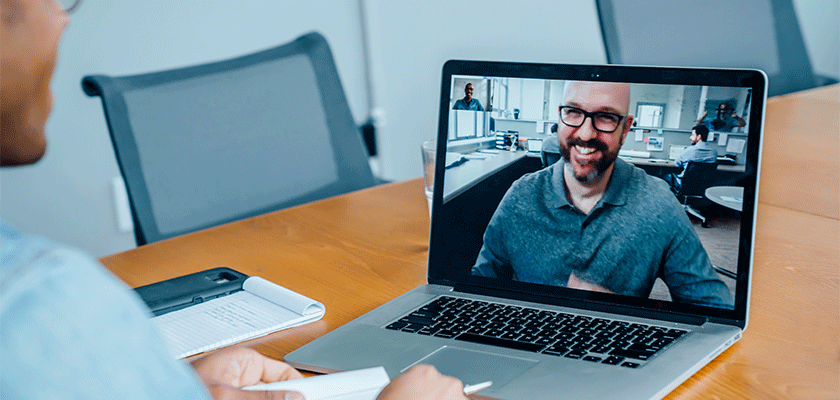 The current climate of uncertainty is posing an undeniable challenge to established hiring practices, but for many employers, roles will still need to be filled and business must continue as normal.
If you find yourself, as many will, in the position of hiring whilst working remotely, there are several steps you can take to ensure you both conduct a successful interview and find the right candidate for the role.
1. Decide how to conduct your interview
As far as remote interviews go, video interviews and the additional visibility they provide are best suited to both conveying a good impression of your organisation and enabling you to decide whether the candidate is the right fit. We recommend a live video interview for the mutual interaction it provides, allowing you as the interviewer to get an idea of the soft skills possessed by the candidate and also making it easier for them to recognise how well they would fit at your organisation.
Deciding on the right platform is also crucial, and there are a number of options open to you including Skype, BlueJeans, FaceTime and GoToMeeting. Some of these also allow for conference interviews, so if required multiple interviewers can speak to a candidate at one time. Consider, however, that not all candidates will have access to certain tools, so make sure they are aware of all details beforehand and have the right software to hand.
2. Prepare, prepare, prepare
It sounds basic, but there is no reason why any other element of your interview should change. The style and format can remain the same, which means a set of pre-prepared questions just as you would ask in a face-to-face interview. These will likely be a mixture of technical and behavioural, dependent on the role, but ensure you have read these through beforehand and have them to hand throughout.
In addition, just as you would expect from your interviewee, do your best to counteract any tech difficulties by doing a test run of the software and ensuring that all appliances are adequately charged. Also take steps to ensure you will be undisturbed throughout (which could be tricky if others are working from home or you also have children at home).
3. Try to reflect your organisational culture
This can be challenging without an office background and colleagues to introduce – but you can still try to convey it over video. For example, if you're looking to reflect your organisation's corporate environment, consider wearing more formal clothes.
Set aside some time to explain to the candidate in more detail the kind of values you stand for, the qualities you look for in prospective employees and what day-to-day life looks like in the office. You might not be there now but even more reason to try and give them a picture about what office life looks like and insight into the company culture. Make sure you give the candidate an opportunity to ask questions about this too.
4. Take notes throughout
Make sure you are taking notes on the candidate's responses throughout or use an interview scorecard to assess how well they are answering. Try not to let this diminish your engagement with the candidate, which is obviously more difficult to maintain with a video call.
Also take notice throughout of how the candidate is communicating to you – are they speaking in a professional manner or are they more informal? Look at their body language, level of engagement and consider the environment in which they have chosen to be interviewed.
5. Take time to review
After the interview, take some time to review any notes you made and whether there is any information you need to clarify further. Be sure to stay in touch with your recruiter and let them know how it went, what your thoughts are on the candidate, and any next steps.
It is inevitable amid the ongoing challenges that video interviews will become more common practice, so remembering these tips will be useful in order to guarantee a successful hire and keep business running smoothly.